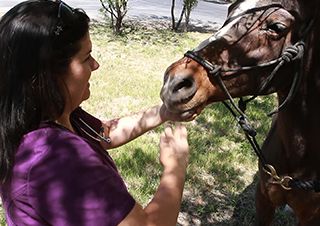 The Importance of the Veterinarian-Client-Patient Relationship
The relationship between a veterinarian, client and the patient is an integral part of a veterinarian's ability to provide high quality treatment to any animal. The success of a veterinarian-client-patient relationship (VCPR) depends on several factors, including the ability of the veterinarian to become familiar with an animal, the quality of communication between the veterinarian and client and the client's ability to follow a veterinarian's care instructions. When clients bring their animals – big or small – to our veterinarians at Adobe Veterinary Center, we work to build a partnership in which the animals succeed.
How the American Veterinary Medical Association (AVMA) Defines VCPR
To ensure all veterinary clinics provide patients with safe, high quality care, the AVMA has established guidelines for veterinary clinics to use to meet the association's requirements for veterinary-client-patient relationship.
According to the association's guidelines, the AVMA recognizes a VCPR when the veterinarian:
When these terms are met, veterinarians are then allowed to provide certain treatments and care to pets.
Adobe Veterinary Center Strengthens Large Animal VCPR with Specialized Equine and Farm Animal Services
Regular veterinarian care, including wellness and preventative care in addition to the treatment of diseases and other medical conditions, is essential to establishing a VCPR. With small pets, developing a strong VCPR is simple because it's easy to bring them into the veterinary clinic on a regular basis for wellness exams, preventative care and disease treatment. With the house calls and enlarged service area available with Adobe Veterinary Center, establishing a VCPR for larger animals, like horses and ruminants, is simple, too.
At Adobe Veterinary Center, we focus on providing convenient services to give large animals easy access to exceptional veterinary care. With regular wellness visits, annual wellness plans, on-site visits and preventative care, our veterinarians have the ability to visit our clients' large animals when they are healthy to establish a health baseline. As a result, our veterinarians are better able to recognize the early signs of medical problems and provide treatment before these issues progress into more serious concerns.
To learn more about enrolling in our annual equine wellness plan or how Adobe Veterinary Center's equine and large animal services have raised the bar regarding the veterinarian-client-patient relationship, contact our office today.