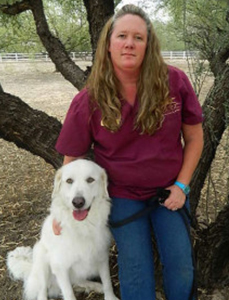 Dana was born and raised in Tucson and attended Northern Arizona University majoring in accounting. She has two daughters with her husband Tommy. Dana has been part of the Adobe team since 2003- she started as a large animal technician and is now Adobe's team leader. She enjoys this role as it provides variety in her work days, the ability to work outside, to help others, and to support her awesome co-workers! My own pets include Fiona (Great Pyrenees/Anatolian shepherd), Luna (Shepherd mix), Loki (Lab mix), and Cassie (Catahoula mix). In her free time she enjoys spending time with family, hanging out with my kid's and granddaughter, or floating in the pool.
Our support staff is eager and ready to assist you and your pet(s). Each one of our staff members participates in continuous education throughout the year in an effort to keep up with technology and medical discoveries. Please allow us to introduce some of the people you may be working with when you come to Adobe Veterinary Center.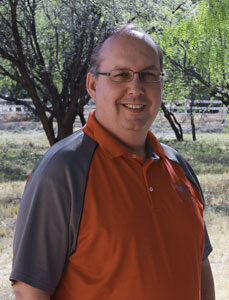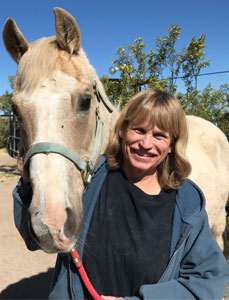 Sandy, originally from South Bend, Indiana has been in Arizona since she was 12 years old when her family moved to Tempe. Currently, she lives with a 30- year old Palomino Quarter Horse named Winston and a domestic short hair tortoiseshell cat Izzy. Sandy's hobbies include writing, reading and hanging out with horses. Sandy received her Bachelor of Geologic Science from New Mexico State University and her post-graduate certificate for technical writing from Pima Community College. She wants to make a difference in the lives of animals and loves being around people who care about life in all its forms. She is a perfect addition to our Adobe team!
Susan moved to Tucson from the Midwest (Indiana/Kentucky) many years ago along with her husband Josh. They have a Labrador Mix (Guster) and an Australian Shepherd Mix (Harper) that run the household. Besides her passion for animals, which led her to joining the Adobe team, she also enjoys volunteering at her church working with the teen program and singing in the choir. When Susan is not working or volunteering, she enjoys spending time with family, swimming, game nights with friends, and just relaxing with her dogs (and husband). The thing that Susan loves the most about being part of the client care coordinating team is the opportunity to be a part of the excellent and genuine care the staff offers, which she has experienced firsthand for her own pets since moving to Tucson.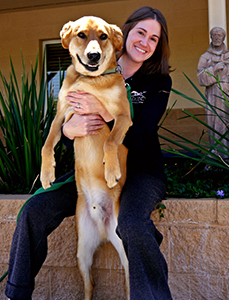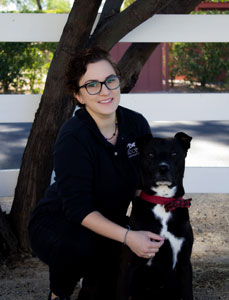 Alyssa is another Tucson native that has come to work at Adobe out of her desire to work with animals outside of having her own. She is presently working on her Masters degree in Deaf Education at the University of Arizona, after obtaining her B.S. in Sign Langue/Deaf Studies. She has a small zoo at home to keep her busy when she is not at work, which includes two dogs, a horse, and two snakes.
Katerina is a weary traveler that has come to Tucson from Glendale, via Coolidge. She received her veterinary assisting certificate from Carrington College. After lots of hard work and perseverance, she was promoted to veterinary technician. When Kat is not at work, she is at home playing with her puppies (Kudjo and Evee), reading, enhancing her mad gaming skills, or hiking. She joined the Adobe team to be part of an environment where she could learn and grow.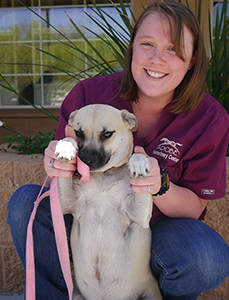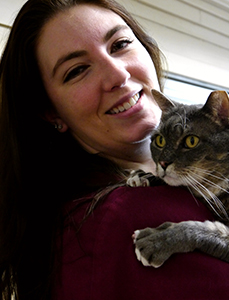 Rachel is a California girl that moved to Tucson to purse her Bachelor's Degree in Veterinary Science from the University of Arizona, after receiving her Associates Degree from Orange Coast Community College. She started at Adobe in order to gain more experience and is pleased to be part of a team that provides excellent medical care to our patients. She has a chocolate lab named Woody and a domestic short hair named Meeko that keep her company at home. When she's not traveling back and forth from Tucson to California, she keeps herself busy playing volleyball, hitting the gym, dancing, and hiking.
Certified Veterinary Technician
Dana is a native Tucsonan who comes from deep Southern Arizona cowboy roots. She graduated from the Pima Community College Veterinary Technician program in 2008. She has a son who use to ride bulls and is now working towards becoming a rodeo clown. She has her horses in Sonoita and has a dog named Cleetus who loves nothing more than when she's home to love on him. Dana loves being a large animal technician because her passion is working with and providing quality medical care to all livestock, which she gets to do every day at Adobe.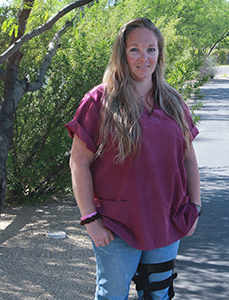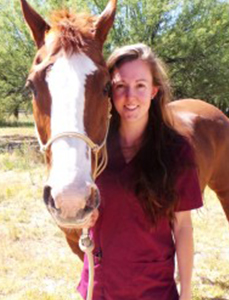 Joni was born and raised here in Tucson, AZ, and she received her Associates Degree in Veterinary Technology from Pima Community College. She was pleased to accept a technician position at Adobe because it provided her with the opportunity to switch gears from a small animal practice only to working in a mixed animal practice. At home, she has a Lab and a 3 kitties, a Boa snake and Ball Python, and a horse! She and her husband, Adam, have a little girl named Taelynn to keep them busy on their days off. During her limited free time, Joni enjoys horseback riding, hiking and camping.
Certified Veterinary Technician/ Current Veterinary Student
"I was born and raised in Ashton, MD, and moved to Tucson to attend the University of Arizona. I graduated in 2009 with a B.S. in Veterinary Science with a minor in Chemistry. I recently went back to school at Pima Community College for their Veterinary Technician program, and I am thrilled to say that I am now a Certified Veterinary Technician (CVT). I grew up in a household filled with dogs, cats, birds, and horses. I now have one dog named Pixie, who is spoiled rotten! My dream has always been to work with animals of all species, and after completing my internship here at Adobe, I was overjoyed to be able to join this amazing team!" Francesca is now attending the University of Arizona's School of Veterinary Medicine.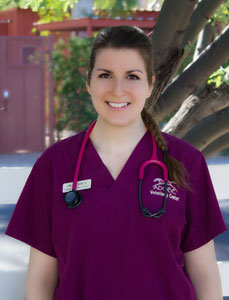 Nina and her son Kaiden are natives of Tucson who enjoy the quiet atmosphere along with her pets Jessie (cockapoo), Bella (mini poodle), Tink (bichon fries), and her dole of turtles and tortoises. When she isn't caring for her family and pets, she enjoys spending her time gardening. Nina was pleased to start her time with Adobe in the Pet Resort because of her life long love of animals. After spending a year as coordinator of the Pet Resort, she agreed to accept a position in reception as she strives to provide the best care for all the pets she can.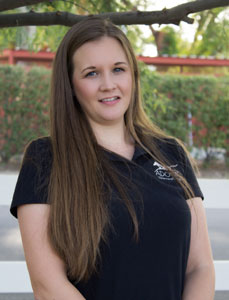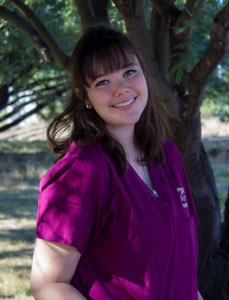 Chelsea is a cool cat that is proud to call Tucson her home. She came to work at Adobe because of her deep seeded love for animals and the desire to learn more about the veterinary community. She is currently working towards becoming a biomedical engineer with attention to veterinary sciences. In her spare time, Chelsea loves to paint and spending time with her own pets: Loki (pitbull) and Lupin (American Shorthair)
Shelbie was born in Columbus Ohio. Her family then moved to San Diego where she was raised. Moving to Tucson in 2007. Shelbie is currently enrolled at the University of Arizona to working towards a Bachelors of Science in Animal Science Industry with a certificate in Aquarium and Zoo Conservation. Shelbie has 2 pets; 10-year-old Ball Python named, Xena and 4-year-old Husky named Nebula. Her hobbies include reading and working with cattle. Shelbie is excited about the opportunity to work with the livestock portion of Adobe Veterinary Center.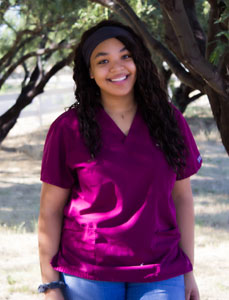 Veterinary Technician Assistant
Aspen was born in Colorado Springs and raised in Tucson. Her family includes two puppies named Echo and Gamora and to stay balanced two cats named Copper and One-Eyed Brutus. Aspen came to Adobe, after graduating with her B.S. in Biology from ASU, because she appreciates the variety of animals we care for and their amazing owners. When asked what she enjoys to do in her free time: eating tamales and knitting pigeons sweaters!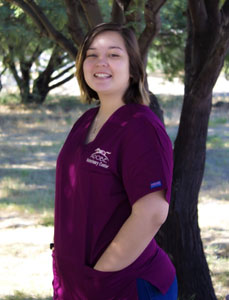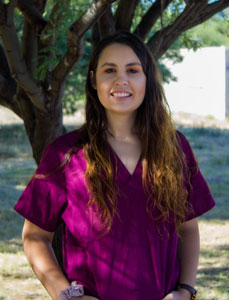 Sydney was born in Fort Collins, Colorado, and raised here in Tucson. She graduated from U of A with a B.S. in Biomedical Science. Sydney joined the Adobe team to gain experience as she works towards her goal of becoming a veterinarian. She enjoys spending time with her 7-year-old dog Wiley and going to the beach with her family.
Kaitlynn was born and raised in Tucson. She is a lover of animals who has a ball python named Willow, a tortoise called Crush, Nala the boxer, Trixie the dachshund, and brings it together with a kitten named Boo. Kaitlynn's hobbies include playing with her pets, swimming, and going on road trips. She joined our Adobe team to work in our friendly environment and of course to be with the animals!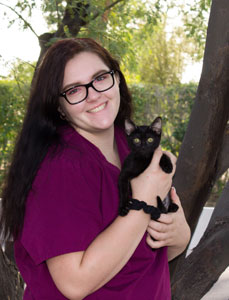 Reece was born in Los Angeles and raised in Long Beach, California. He made his way to Tucson and attended Pima Community College for animation and enjoys anime, drawing, cosplay, writing fictional stories, and football in his spare time. Reece's home includes his four children(Jazmyn, Jaiden, Laila & Joshua), two dogs(Kibu & Coco), two cats(Storm & Shadow), and two desert tortoises(Leonardo & Raphael)! As you can imagine, he joined our team as he enjoys working with animals and being around fun, caring people.
Daphne is proud to come from Warroad, Minnesota aka Hockeytown USA known for producing NHL and Olympic players. Fun fact: No U.S. Hockey Olympic Men's team has won a gold medal without a player from Warroad on the roster. As you may guess, Daphne enjoys snow hobbies like ice fishing, snowmobiling, and just spending time outdoors when she is in Minnesota. Daphne came to Tucson after four years of active duty in the Navy. She joined Adobe due to her love for animals and desire to help others. Daphne rounded out her family with Mabel a Jack Russell/Papillon mix who she knew was meant for their family when they discovered she shared the same birthday with her daughter. Here in Arizona, her hobbies include spending time with her family, going to the zoo, parks, and making crafts with her kids.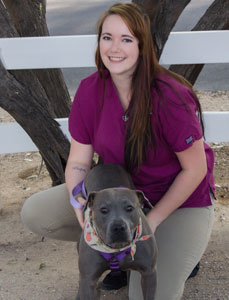 Ashlee was born and raised in Tucson surrounded by animals all her life. Not surprising that she became an animal lover who now has a 3-year-old pitbull named Coco. She enjoys spending her time playing with her children, watching movies with her husband, and playing video games. Ashlee is currently pursuing her goal of becoming a pediatric speech therapist.
Veterinary Technician Assistant