Adobe Vet Center & Pet Resort
Serving Tucson for 40 Years
Adobe Veterinary Center has been providing compassionate and quality veterinary care in Tucson and surrounding communities since 1979. Each year our veterinary team attends over 150 hours of continuing education to provide your animals with the most current medical and surgical care.
Adobe Veterinary Center is unique in that we provide medical care to multiple species in the greater Tucson area
Three of our veterinarians specialize in the care of dogs and cats and the other four veterinarians specialize in the care of horses and livestock. We provide small animal services including but not limited to: preventative care, surgery, dentistry, laboratory diagnostics, x-rays and ultrasound. Large animal services include but are not limited to: preventative care, emergency services, chiropractic care, surgery, advanced dentistry, in-house laboratory diagnostics, x-rays, ultrasound, and lameness exams.
If you need to board your animal while you are away, provide them with a home away from home at our pet resort. Please stop by for a guided tour of our state of the art facilities and check out our pet resort for your pet's next staycation.
Adobe Veterinary Center works to be the most trusted and respected pet care provider in our community by administering the best possible medical care to every patient and giving outstanding service to every patient and every pet owner.


Love and care for the people and pets we serve.
Exceed expectations in everything we do.

Do the right thing always.

Embrace opportunities to learn and improve.

Use our resources efficiently and effectively to serve people and pets.

Collaboration and mutual support are essential to our effectiveness.
Adobe Veterinary Center Provides Premiere service to
OUR TEAM MEMBERS
Our team members are our greatest asset. They are some of the hardest-working, brightest talents in the veterinary field and they are motivated by the patients and owners that they care for, a positive and collaborative work environment, a sense of pride in our practice, and lifelong learning. We will attract and support them by investing in skill and knowledge-based advancements, excellent wages and benefits, recognition, continuing education, work/life balance, and giving them a voice in how the practice moves forward.
OUR PATIENTS
We are committed to providing the most compassionate, ethical, up-to-date, and quality care to all of our patients in a low-stress environment. Our patients are treated as if they are our own family members and we put their health, comfort, and well-being above all else. We strive to be leaders in our fields and offer the most advanced health care to our patients providing state-of-the art technology and outstanding care providers.
OUR PET OWNERS
We build lasting relationships with our pet owners with trust, respect, and integrity as the foundations of our practice. Empowering our pet owners with knowledge, individually during their pet's exam and collectively out in the community, invites them to be an active partner in their pet's care. We are attentive to owners' concerns and provide exceptional, timely, and friendly service to them, treating them as guests in our home.
OUR GOD
Our belief at Adobe Veterinary Center is that mankind has been given the gift of animals, and that compassionate care of such is our obligation. God has blessed us with great opportunities and we will carefully and lovingly use the talents and gifts that we have been given in our interactions with people and animals. We will treat others the same way we want to be treated with honesty, integrity, dignity, and compassion.
OUR COMMUNITY
We're deeply connected to the Tucson community where we operate and have a long history of doing our part to help it thrive. Since our beginning in 1979, we been locally owned and committed to giving back to the community in which we live and work. We invest our time, talents, and treasures in efforts to meet the needs of, enrich, and improve our local community. A vibrant Adobe Veterinary Center and a vibrant community are interdependent on one another.
We believe that there is no better way to convey our dedication than by actively serving our community.
Adobe Veterinary Center was recently nominated for the Copper Cactus Award for community involvement.
Professional Associations
American Animal Hospital Association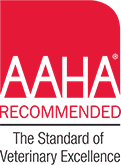 We are AAHA (American Animal Hospital Association) certified! How does that affect you?
Because of AAHA's belief in "The Standard of Veterinary Excellence," you receive the best quality of care possible.
With over 1900 different criteria, covering medicine, surgery, diagnostics, and more, AAHA hospitals are regularly evaluated to be sure that the standards set forth by AAHA are met and sustained.
Therefore, you are provided with the highest level of care possible.
With only 14% of the hospitals in North America certified, Adobe Veterinary Center is among the elite few.